Blacking Tyres, and tidying up wheels
Sunday, 9 September 2018 | Admin
Jago Geep Kit Car Wheel And Tyre Painting / Blacking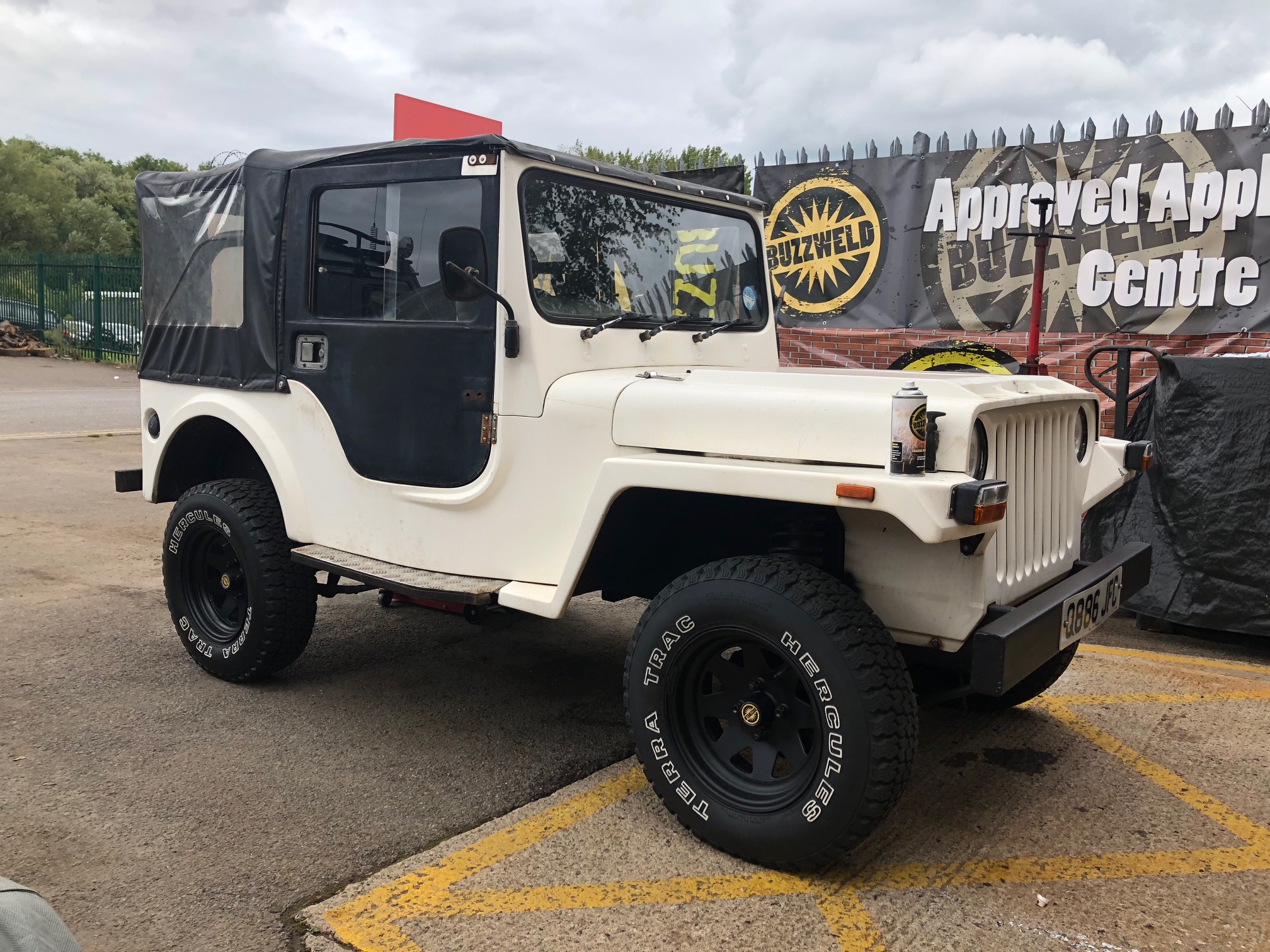 There are many ways to Improve the look of a vehicle. From adding parts, fitting more purposeful items, or repainting old items to bring them back to new.
We recently purchased a Jago Geep Kit Car. Whilst complete, it will benefit greatly from being tidied up. We are not looking for the ultimate build, and for the purposes of demonstration alot of the work being carried out can be done cost effectively at home, with minimal tools, or products.
Today we will cover off the wheels and tyres. The tyres are approaching 8 years old, and wheels have been repainted several times. In an ideal world we could fit new wheels and tyres, but this is in many cases a waste, and beyond budget. The wheels serve their purpose, and the tyres whilst old are still perfectly safe.
Using one can of PIO (Plastics In One), and nothing more than a scotchbrite we can bring the wheels and tyres up to a good standard. Again, this is a spruce up. We could go alot further, using more products, time and money such as taking the tyres off, blasting the wheels, painting in Rust encapsulator, and then top coating in FXliner, or Buzzweld 1 etc.
1. REMOVE THE WHEEL/ TYRE
Remove the wheel jacking the vehicle and chock the wheels, use an axle stand on an even surface. You may want to loosen the wheel nuts slightly 1/2 a turn prior to jacking using the weight of the vehicle to hold it in place initially.
2. REMOVE PART TO A SUITABLE WORKPLACE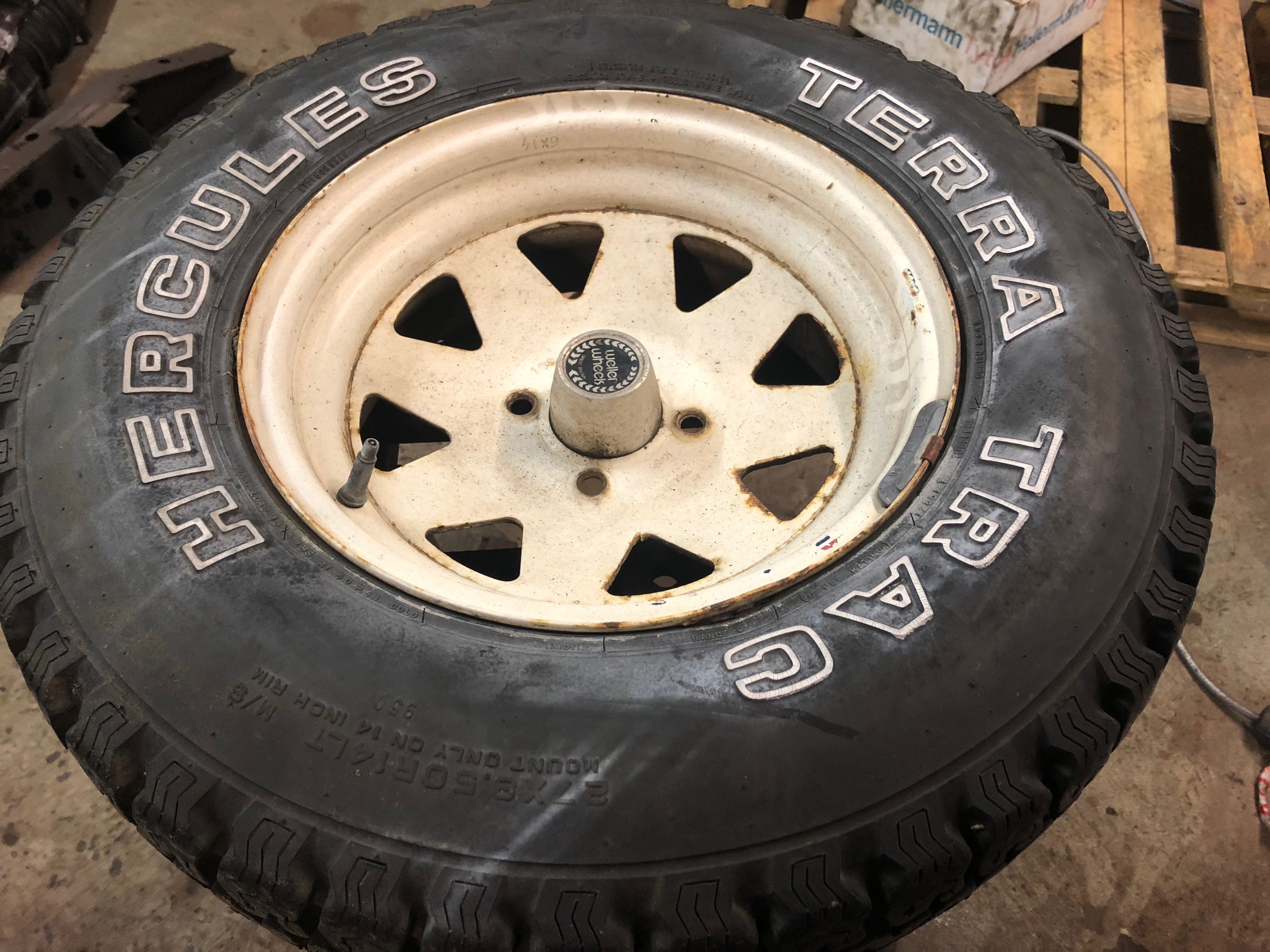 With the wheel removed place it on a firm flat surface to work on. As you can see the wheel and tyre have seen better days.
3.PREPARATION AND SANDING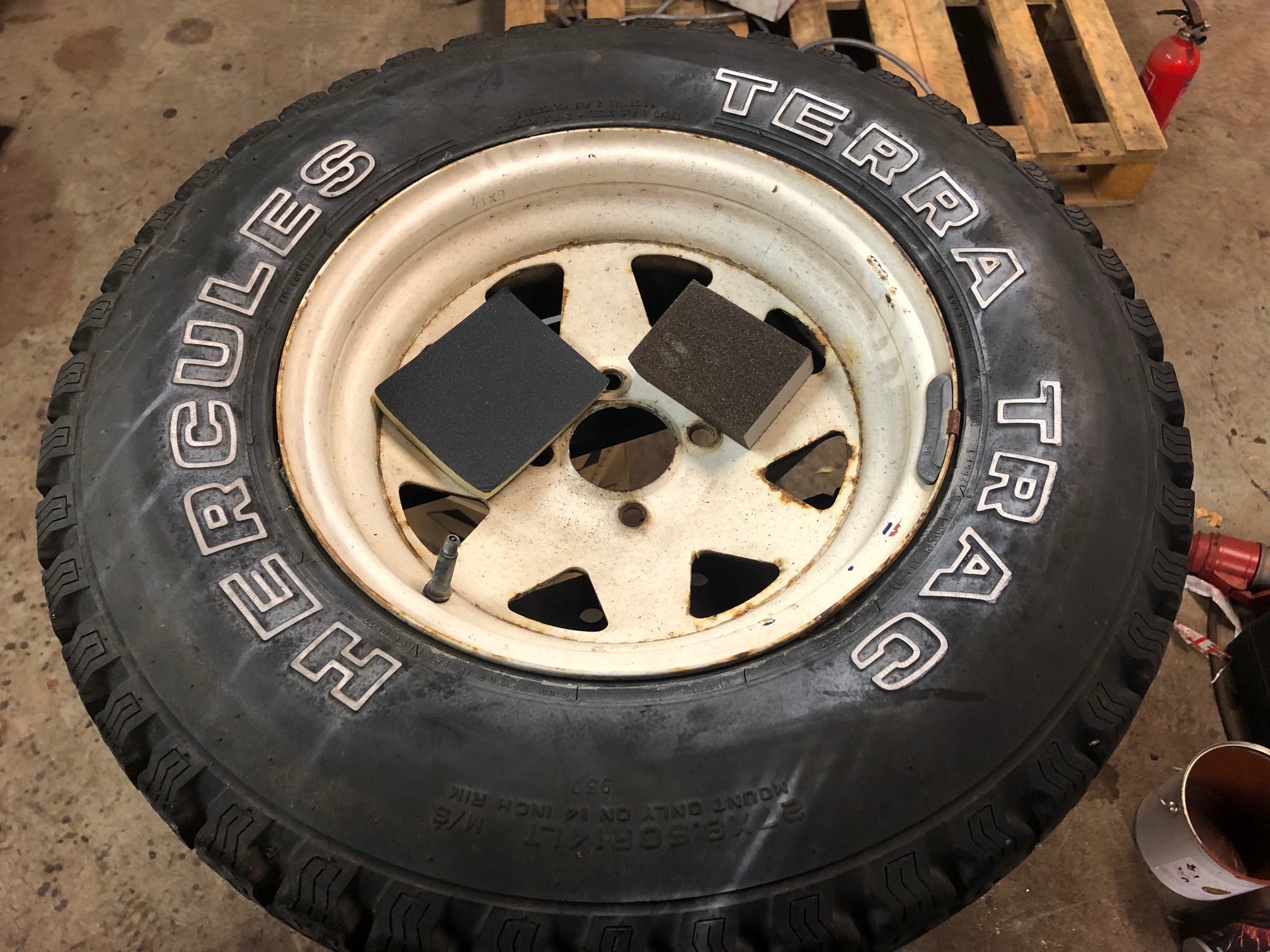 Using sanding pads and blocks sand the tyre exterior to remove the faded oxidised layer so that the Plastics In One will adhere to a good base. Also sand the wheel removing any loose paint, and ensuring all of the existing paint is Dull ready to be painted. If time/ budget allows it is a great time to paint the wheel using Rust Encapsulator first. use 1/2 an aerosol per wheel to ensure you put enough on using several coats from different angles.
4. DETAILED SANDING AND ABRASION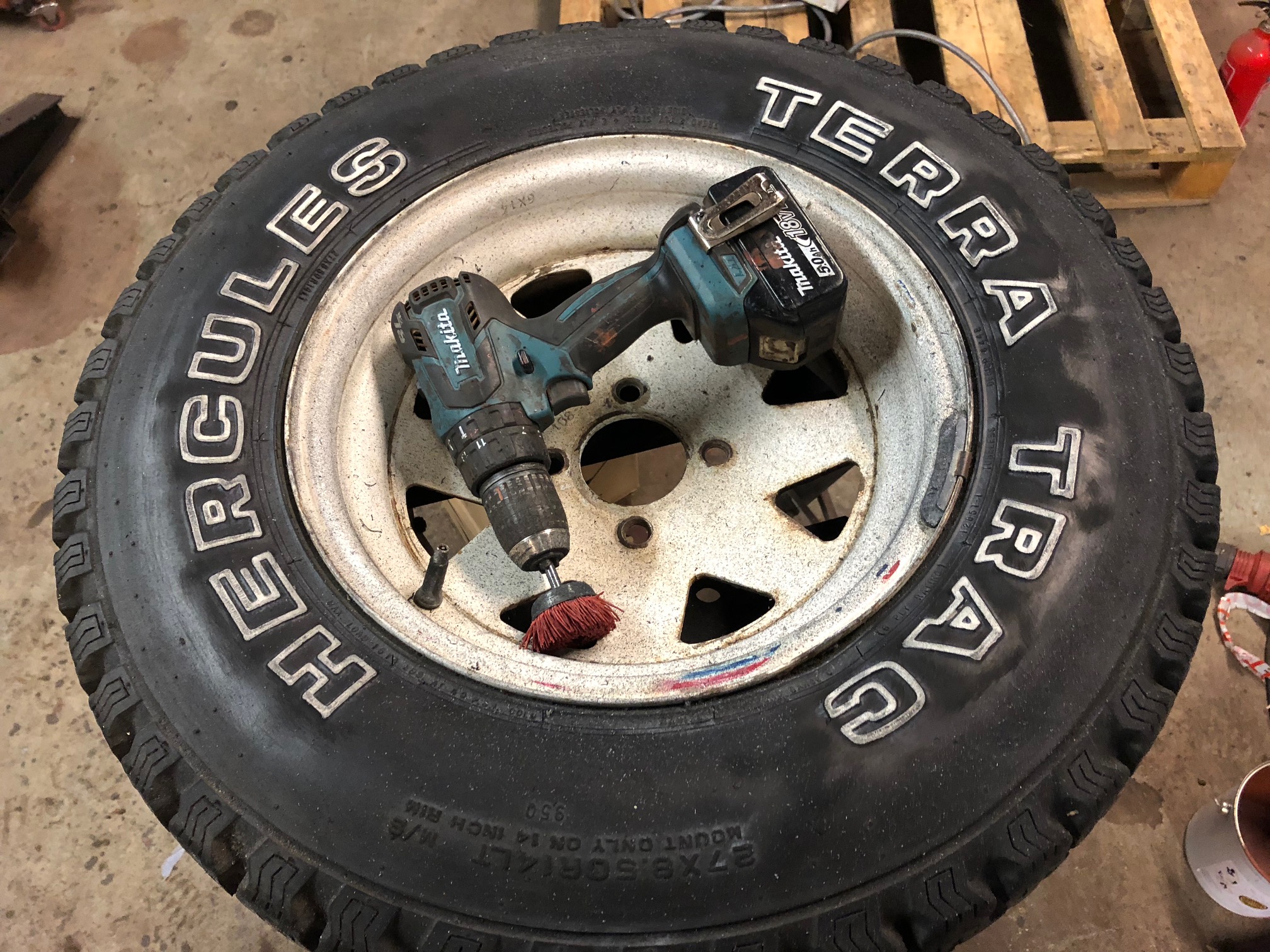 We used a fibrous wheel to get in and around the lettering on the tyre, reversing the rotation of the drill and using it from different angles. You can do this manually, but would take more time.
5. INSPECTION PRE PAINTING AND SPRAYING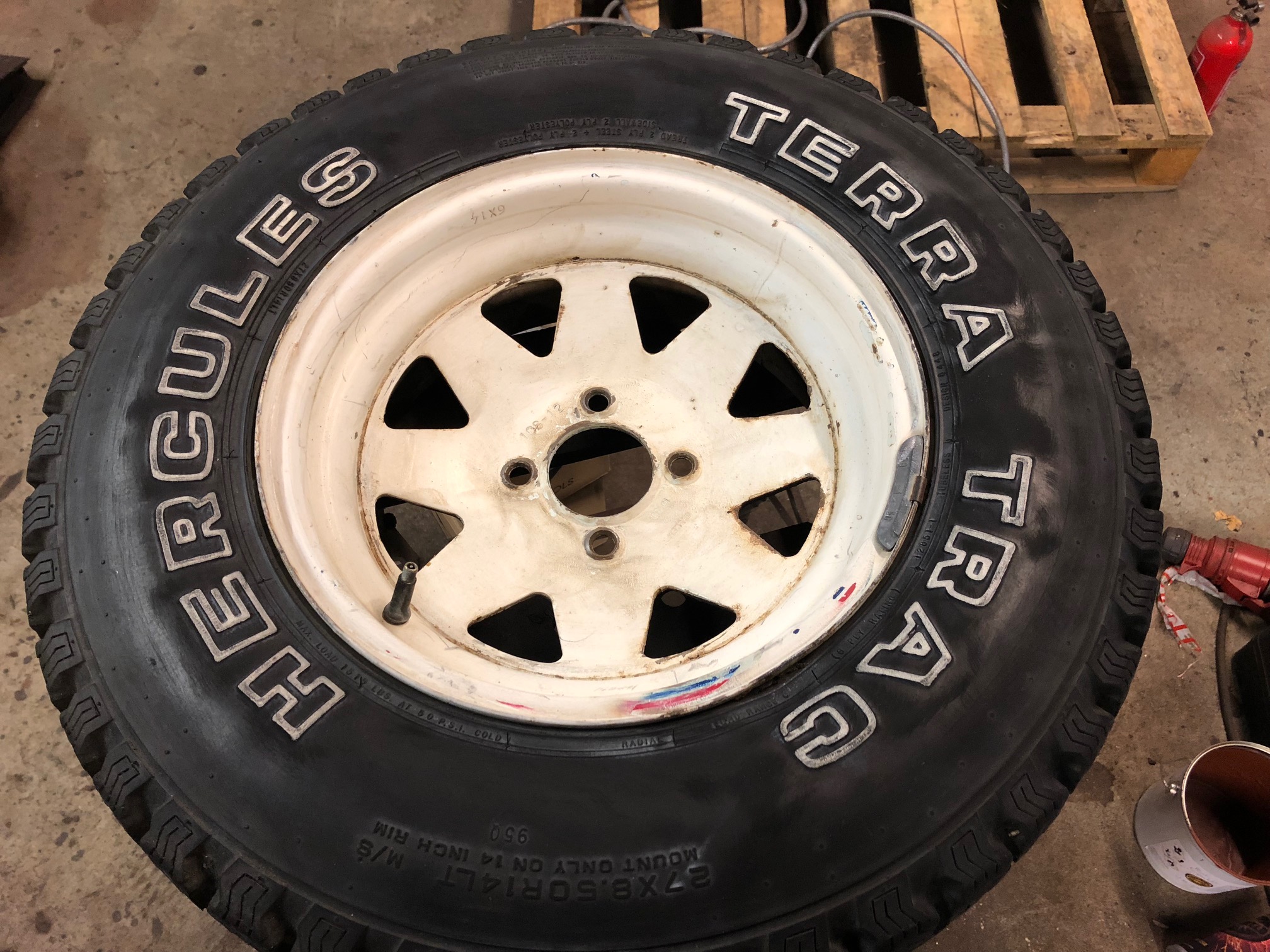 Dust off the tyre and wheel using an air duster/ airline, or damp cloth and you should be left within something like this, having removed the oxidisation on the tyre, and the old flakey paint. If you used Rust Encapsulator primer on the wheel then allow that to dry for around an hour or two prior to proceeding to step 6.
6. APPLYING FIRST COAT OF PAINT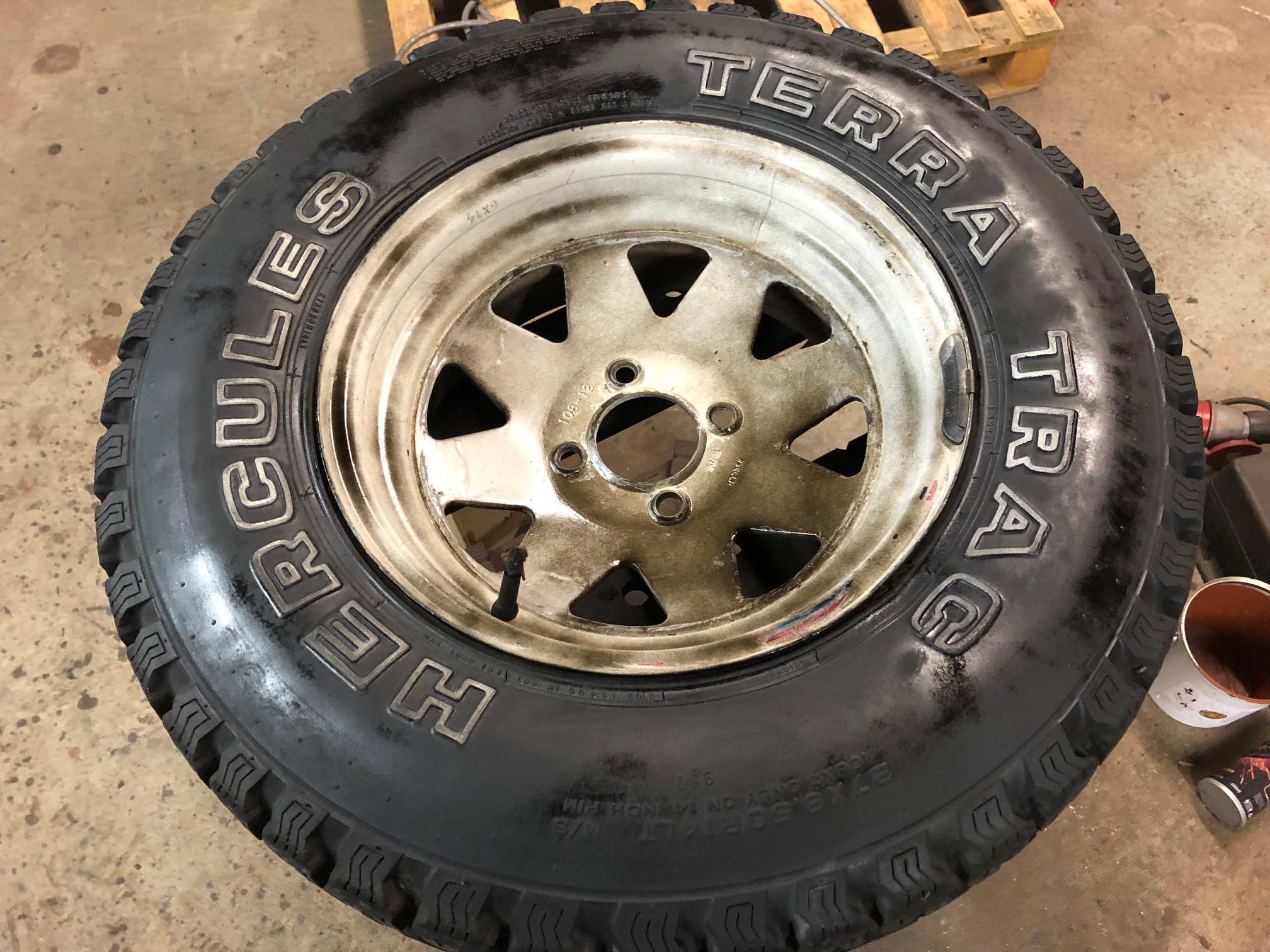 LIGHTLY dust spray the wheel and tyre (you may be using a different colour of PIO for the wheel or tyre, so may need to mask one from the other, wait to cure, and then re mask accordingly to paint the other part). By applying the product lightly we reduce the chances of runs, and allow us to put our second heavier coat on faster.
7. FINAL COAT OF PAINT AND TECHNIQUE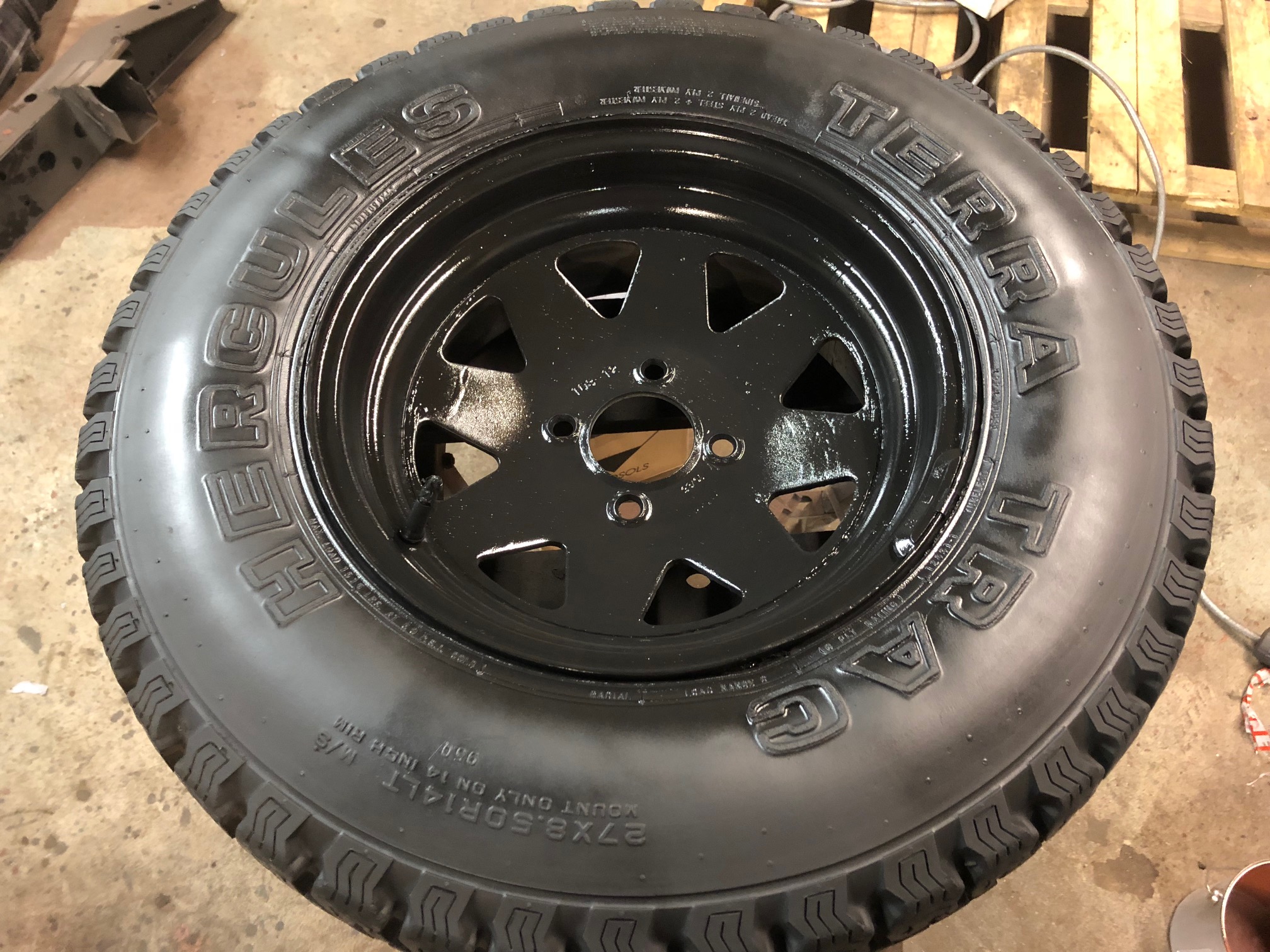 Once the first coat has gone to a satin/ matt finish, and is touch dry (you can assist cure times by a fan), then we lay on our second coat. the easiest way to apply is to spray the wheel edge that is furthest away from you, using the movement in your wrist to keep an even distance from the wheel/ tyre.
8. PAINT CURING AND WHITE TYRE LETTERING PAINT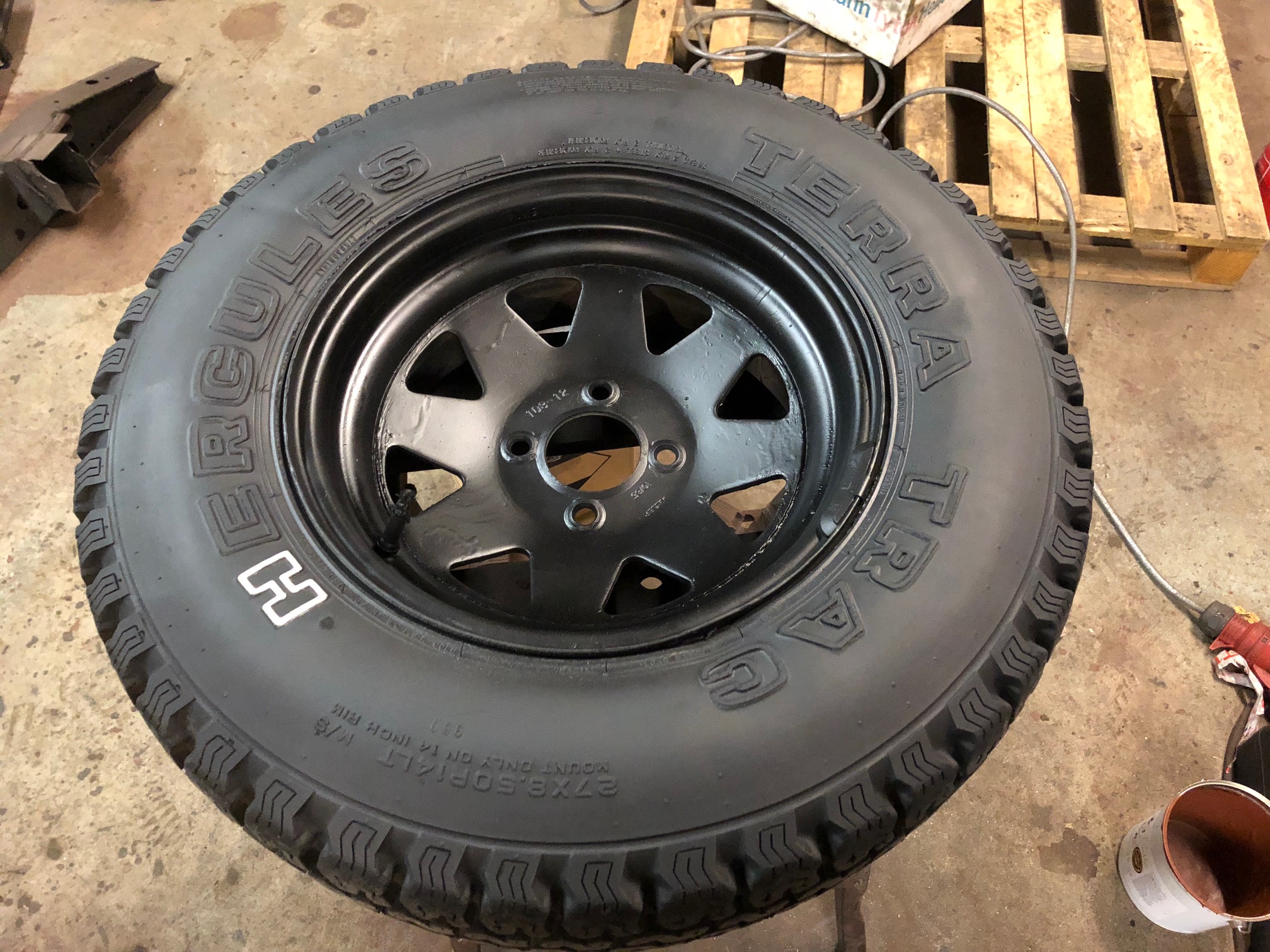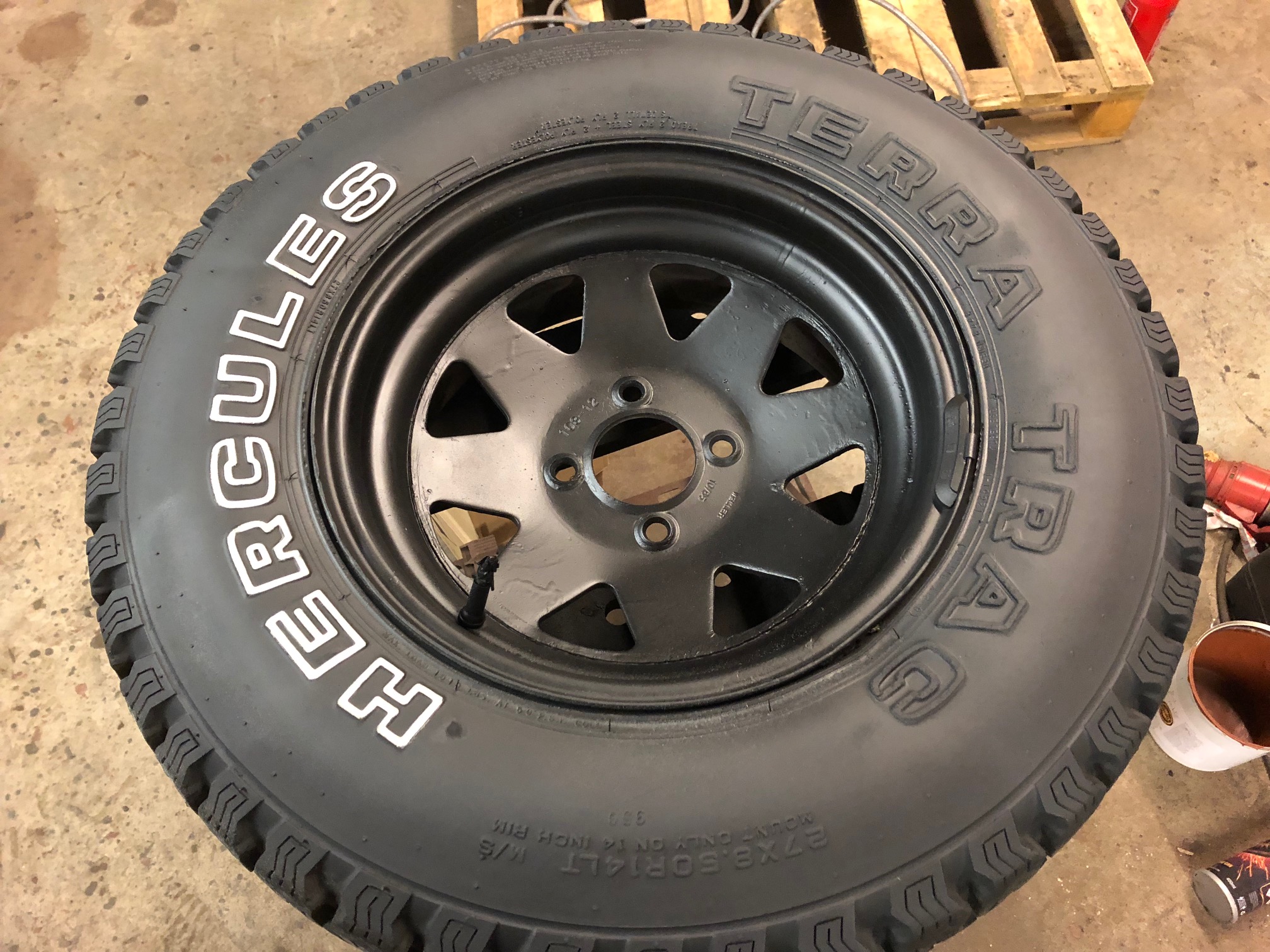 Allow the paint to harden for around an hour, so its touch dry. If you want to restore the white letting on your tyre, you can usually lightly sand the letting using a flat small sanding pad, or 2" DA sander.
9. COMPLETED ITEM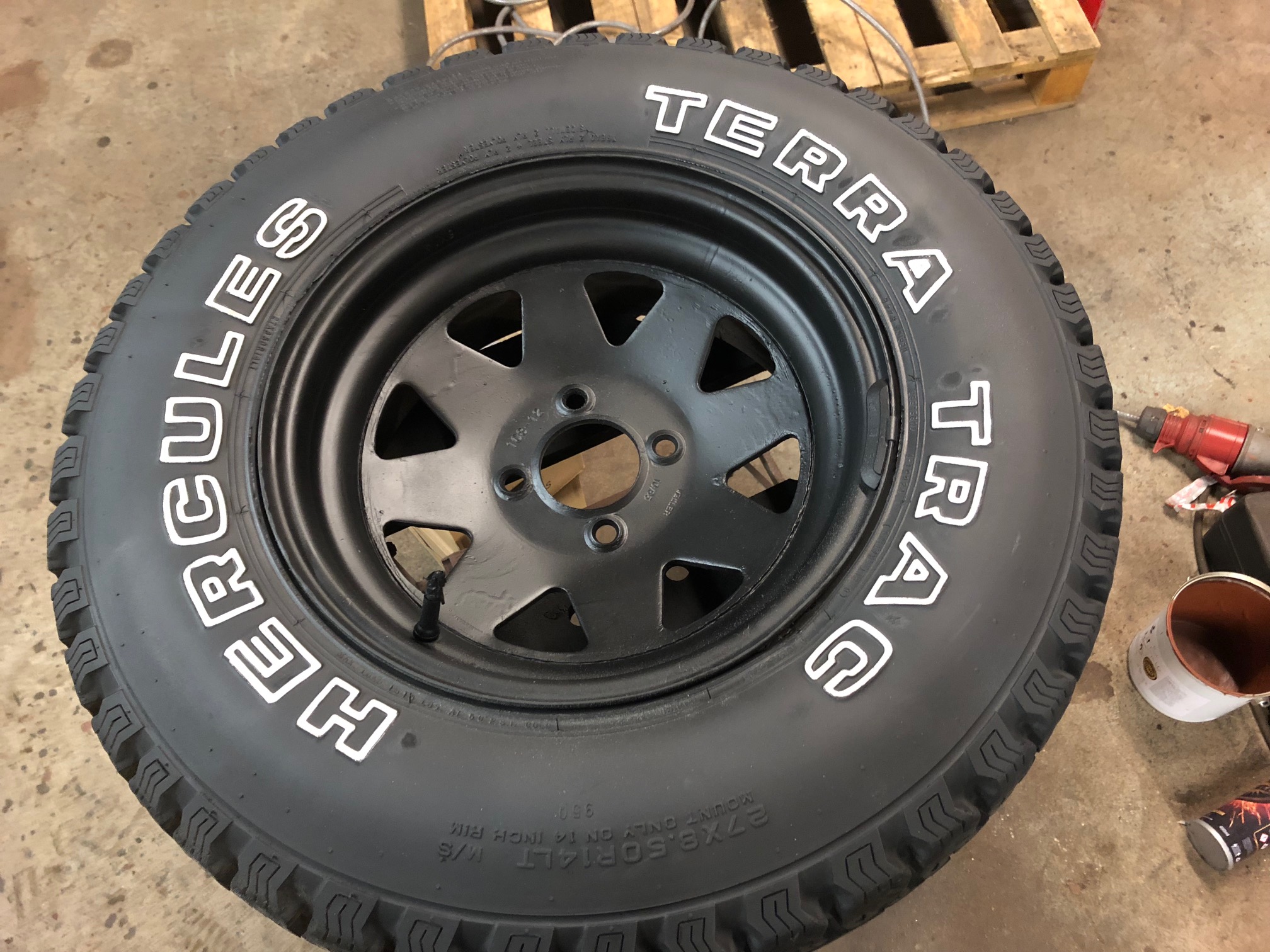 Air blow the dust off, and refit. ensure you Torque your wheel nuts, and make sure under the vehicle is clear of all obstructions prior to driving. Re check torque after a short distance.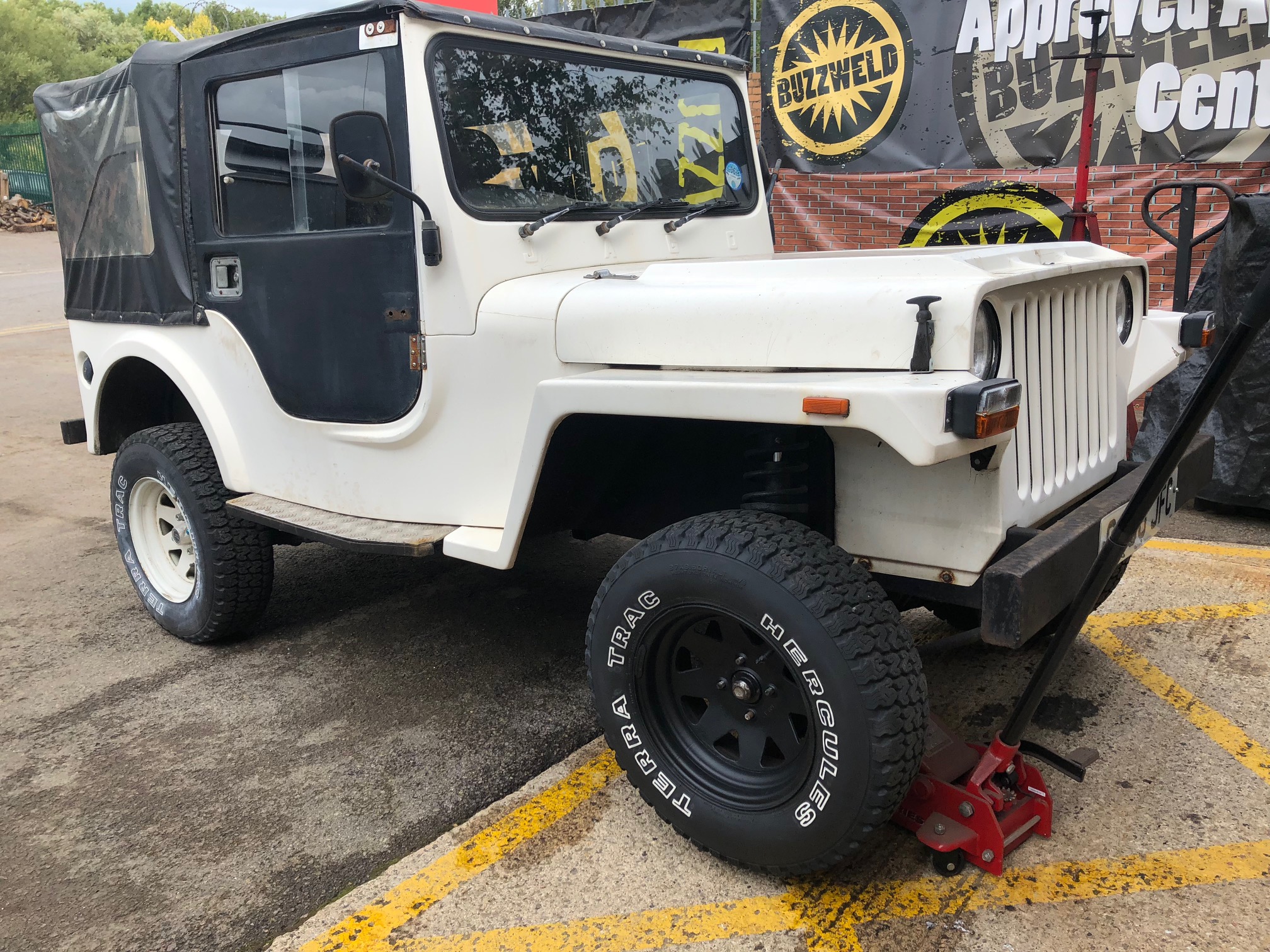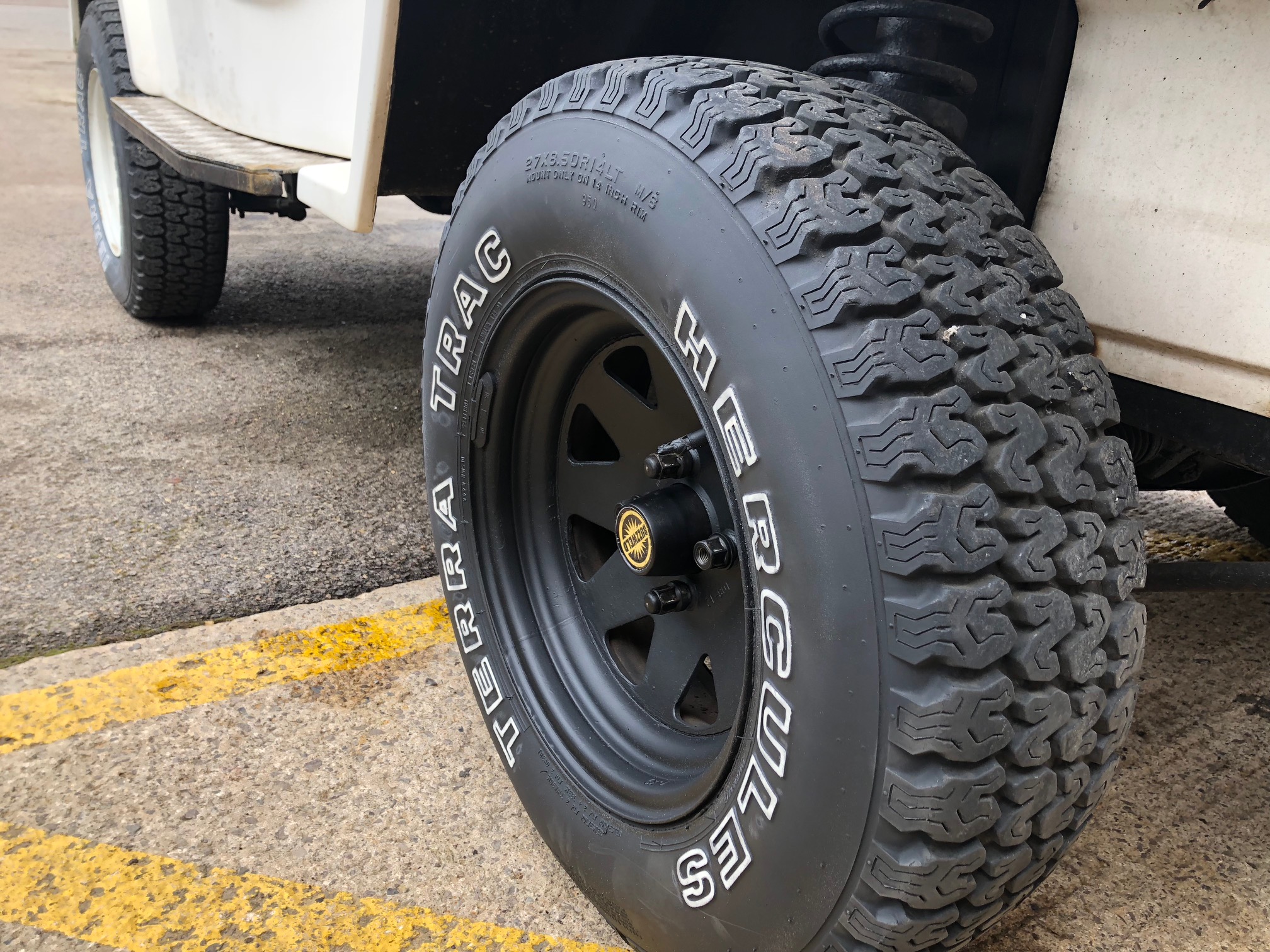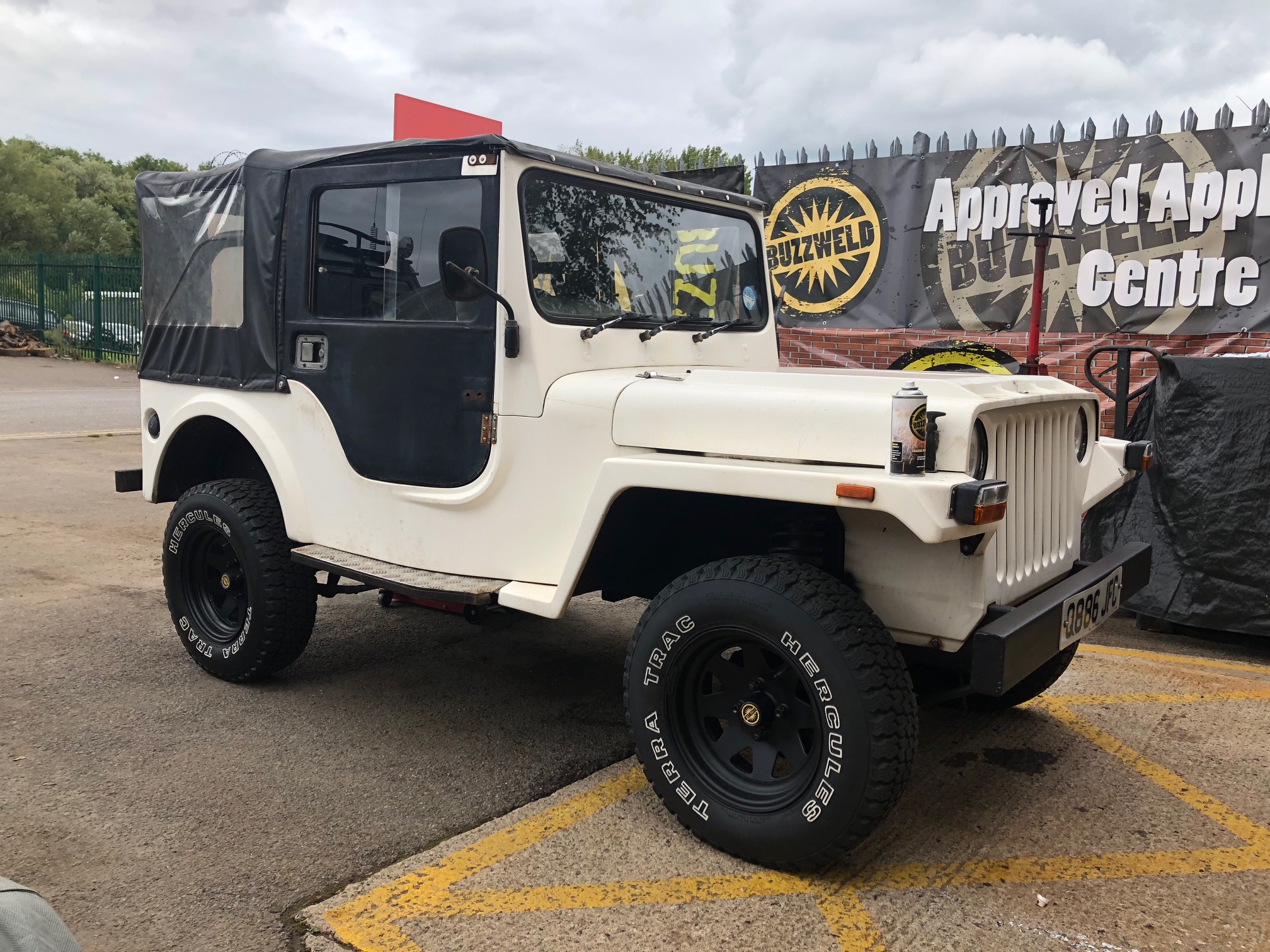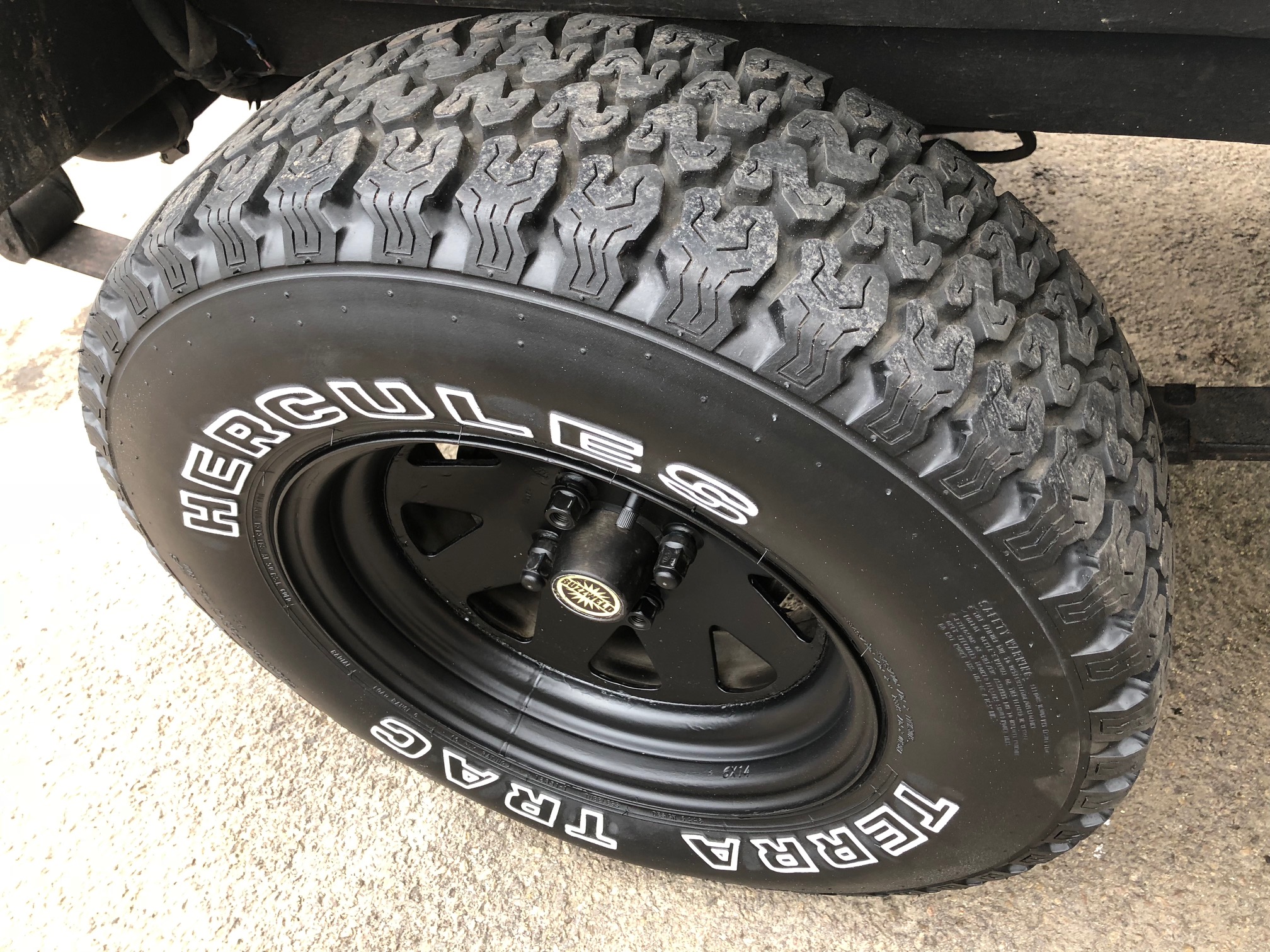 Products Used.
Sanding Block
Sanding pads for DA Sander
How will this hold up over time?
This is an example of the paint on a Defender wheel and tyre after 18 months. Never been washed, completed several pay and plays. No flaking, or chipping.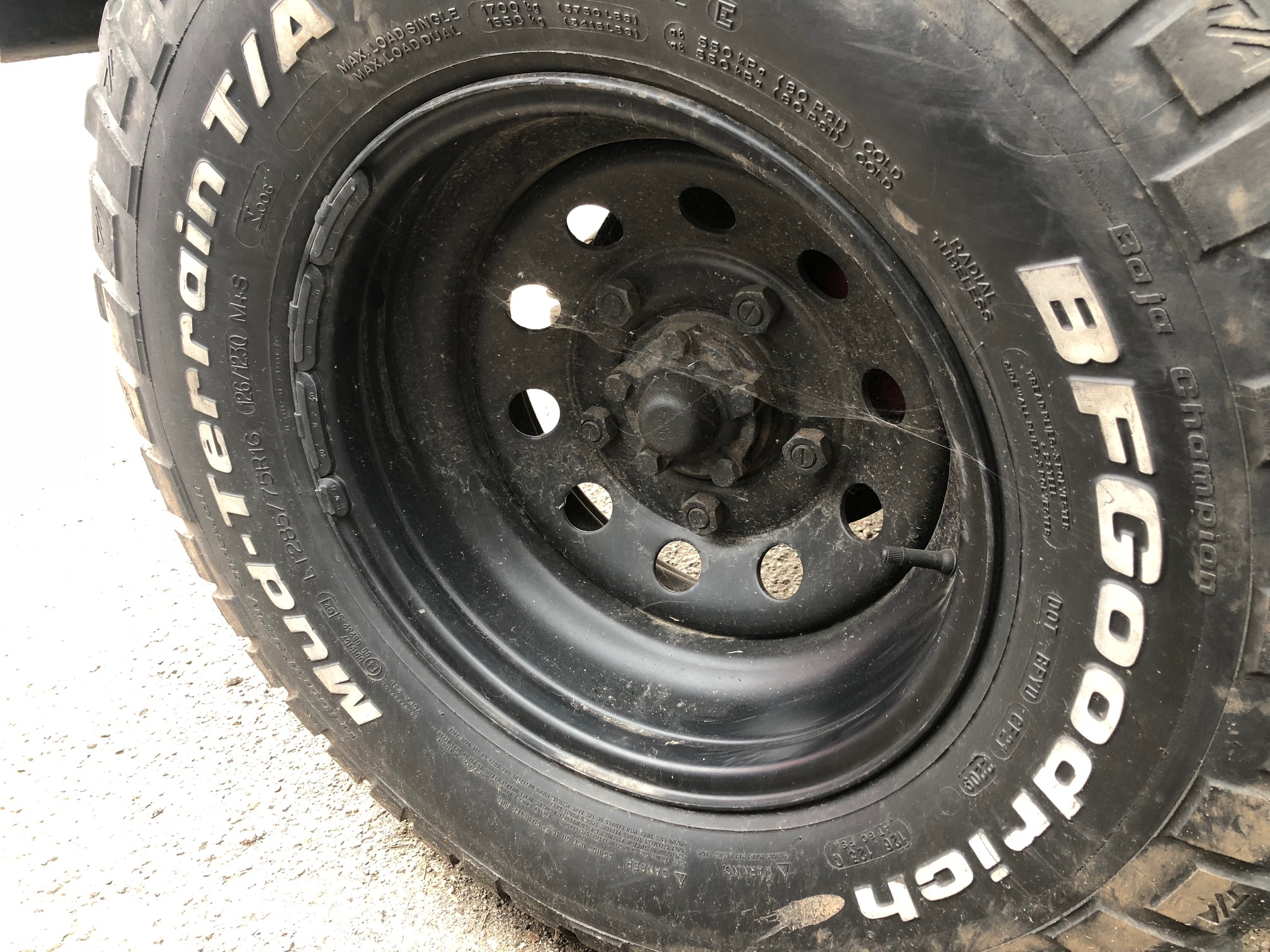 Further reading? HOW TO CHOOSE A CHASSIS PAINT